Customers who bought Dell Vostro 3550 System or administrator password Also bought:
Dell HDD Password from S/N,
If you need it, click here
---
Dell Vostro 3550 laptop Bios Password reset
BIOS is the acronym of Basic Input/Output System that is a firmware embedded on a small memory chip on the PC's system board or motherboard. BIOS interface is designed for advanced PC users. Change certain settings on BIOS could prevent the PC from starting correctly, prevent the operating system from loading or suffering potential loss of data. To prevent the BIOS settings changed by the other unauthorized person, we can set a security password on BIOS. But if we forgot Bios Password, we can't get into BIOS too.
Tip 1:
Reset/remove Bios Password on Dell laptop normally after you received the BIOS Master password from us,
you can press the Keys to get into BIOS settings to change or remove the password easily.
1. Power on your computer, press F2 key several times when Dell logo appears.
2. When get into BIOS settings, locate to Security menu, find Supervisor Password or (Administrator Password), press Enter.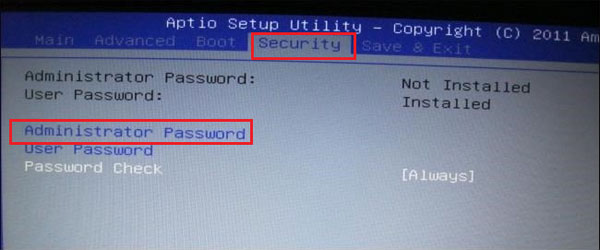 3. When the password text box pops up, enter the Master password in the first field and leave the other two fields empty to reset it, and clear the password.
If you wish to just change the password:
if you want to you can just change the password to something easier to remember,
in that case, on the first field you will enter the master password we sent you, and on the second field and third field you will enter whatever password you like, for instance, if you wish to set the password as 1234 you will Enter:
the masster password we sent you in the first field
1234 in the second field
1234 in the third field
then you will hit the F10 Key to exit and save the changes.